Travis Scott - THANK GOD
2225 hits
Published 4 months ago
0 Comments
0 likes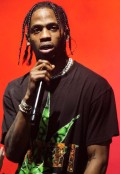 THANK GOD
I won't doubt it, I won't
He won't mislead all His followers
Prayin' on the process, minus Spirit
Feel like
Like I'm
Floatin' in my prime time
One life, live it, right now
One life, live it, yeah
Goodbyes, that's life
Fun times, for life
For life, from down my eyes
Thank God I'm free tonight (Let me in)
Ooh
Got God on the line
Tell the devil I'm fine
He always tryin'
Tryin' his best (No question)
Top of the pole, me and my bros
When the story gets old
It's gon' be BMF (Muchas gracias)
This shit sound hard
It wasn't made easy
You can't live twice
Thank God I'm breathin' (You are not fuckin')
You gotta go now
One life, live it, right now
One life, live it, yeah
Goodbyes, that's life
Fun times, for life
For life, from down my eyes
Thank God I breathe tonight (Let me in)
♪
Oh
♪
Still no pressure
Thank God, I breathe
'Cause shit I speak is what they need, I tell no lies
But still up top, they still can't drop but what if they not
Yeah, yeah
Last tape was filled up with slaps, I just gotta run this shit back
Didn't like the way this shit went down at the awards, I admit it, turned to a beast
This that shit right here that get me goin', after I pop me a piece
Brodie, we killin' the critics and killin' the hate, might gotta talk to a priest
The way we evolved and knocked down walls, this shit's outrageous
A quarterback calls, they don't like 12, except Tom Brady
Can't short my stock, I still stack tall, they still can't trade me
Storm's a minor but you know she livin' major (That's right, daddy)
When you flyin' up this high, it ain't no cables
Shit so lit, what happen in Vegas, it stay in Vegas
Mornin' time, we check the news, we made the papers
Por el momento, a nadie le gusta este artículo
GRACIAS A DIOS
No lo dudaré, no lo haré
Él no engañará a todos sus seguidores
Orando en el proceso, sin Espíritu
Siento como
Como si estuviera
Flotando en mi mejor momento
Una vida, vívela, ahora mismo
Una vida, vívela, sí
Despedidas, así es la vida
Momentos divertidos, para siempre
Para siempre, desde mis ojos
Gracias a Dios estoy libre esta noche (Déjame entrar)
Ooh
Tengo a Dios al otro lado de la línea
Dile al diablo que estoy bien
Siempre está intentando
Intentándolo lo mejor (Sin duda)
En la cima del polo, yo y mis hermanos
Cuando la historia se vuelva vieja
Será BMF (Muchas gracias)
Esta mierda suena fuerte
No fue hecha fácil
No puedes vivir dos veces
Gracias a Dios estoy respirando (No estás jodiendo)
Tienes que irte ahora
Una vida, vívela, ahora mismo
Una vida, vívela, sí
Despedidas, así es la vida
Momentos divertidos, para siempre
Para siempre, desde mis ojos
Gracias a Dios respiro esta noche (Déjame entrar)
♪
Oh
♪
Aún sin presión
Gracias a Dios, respiro
Porque lo que digo es lo que necesitan, no digo mentiras
Pero aún en la cima, aún no pueden derribar, pero ¿y si no lo hacen?
Sí, sí
La última cinta estaba llena de éxitos, tengo que poner esta mierda de nuevo en marcha
No me gustó cómo se desarrolló esta mierda en los premios, lo admito, me convertí en una bestia
Esta es la mierda aquí que me hace seguir adelante, después de tomar una pastilla
Brodie, estamos matando a los críticos y matando el odio, quizás tenga que hablar con un sacerdote
La forma en que evolucionamos y derribamos paredes, esta mierda es escandalosa
Un quarterback llama, no les gusta el número 12, excepto Tom Brady
No pueden disminuir mi valor, todavía me mantengo alto, aún no pueden intercambiarme
La tormenta es menor, pero sabes que ella vive en grande (Así es, papi)
Cuando vuelas tan alto, no hay cables
La mierda es tan intensa, lo que sucede en Las Vegas, se queda en Las Vegas
Por la mañana, revisamos las noticias, salimos en los periódicos
---
Comments
Hey! You're in luck, no one has commented on this article yet. Be the first one and leave your comment.